Infant Jesus of Prague
"The more you honor me, the more I will bless you."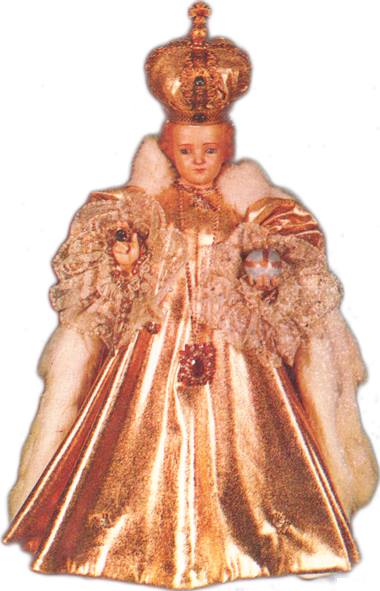 PRIVATE NOVENA IN HONOR OF
THE INFANT JESUS OF PRAGUE
This private Novena may be made in your
home or in church, before a statue or picture
of the Infant of Prague, on any nine successive
days, especially from the 17th to the 25th of any
month, and in particular in December before
the Feast of the Nativity of Christ the Infant.
O Miraculous Infant Jesus, prostrate
before your sacred image, we beseech
you to cast a merciful look on our troubled
hearts. Let your tender heart so inclined
to pity be softened by our prayers, and
grant us that grace for which we ardently
implore You. Take from us all affliction
and despair, all trials and misfortunes
with which we are laden. For your sacred
Infancy's sake hear our prayers and
send us consolation and aid, that we may
praise You, with the Father and the Holy
Spirit, forever and ever. Amen.
The National Shrine of the
Infant Jesus of Prague
Prague, Oklahoma
www.shrineofinfantjesus.com
---
Listen to Céline Dion sing "Because You Loved Me".
Listen to Billy Ward & The Dominoes sing "St Therese Of The Roses".